Last Saturday Dinner - 25 November
Featured Winery - Omphalos Winer
Coursed Wine Paired Menu


Pear and Feta Salad with Bacon and Sun-Dried Tomato with Aglaé Rose.
Aglaé provides scents of violets and citrus, and wisps of vanilla butter, orange, jasmine, toffee, and caramel on the palette


Smoked Duck with Mourvédre.
On the nose is a symphony of cherries, violets, toasted marshmallows, and blueberries, with flavors of plums, cherries, coffee, and blackberries.


Vera Earl New York Strip with White Cheddar Onion Fritters, Jalapeno Aioli with Syrah.
With fragrances of spice, blackberry, blueberry, and a hint of cocoa, and then tastes of red and black fruits, and a little smoke and pepper.


Pecan Pie with Malbec.
Wonderful aromas of blackberry and strawberry with flavors of dark cherry, plum, cocoa, and white pepper.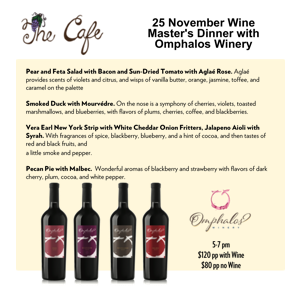 Last Saturday Dinner - 30 December
Featured Winery - Vino Stache Winery
Coursed Wine Paired Menu


The Wanderer- Italian Sausage stuffed Tomatoes with Toasted Cotija Cheese.
2020 Sangiovese. Medium bodied red, this fruit came off of the beautiful Cimarron Vineyard in Willcox. Aged in 80% neutral oak 20% medium toasted barrels for 2
½
years. This wine is fruit forward and approachable with notes of bright candied cherry, Kirsch, raspberry, dried strawberry, eucalyptus and leather.

The Painiolo- Smoked Pork Belly with a Dark Cherry Mint Glaze
. This Mouvedre fruit came to the winery gorgeous and flawless off of Rhumbline Vineyard in Willcox and from Kat & George's Whitmill Vineyard in Sonoita. Destemmed and fermented outside and with a bit of whole cluster stem action. This wine was then pressed and aged in our 75% neutral oak and 25% new oak.

The Boss- Blackened Prime Rib with Rosemary Roasted Potatoes and Broccolini.
2020 Graciano. Medium to full bodied red, this fruit is from a 3 acre vineyard in Sonoita on Harvest Drive. This fruit was picked, destemmed and included 20% whole cluster in the ferment. Aged for 3 years in neutral oak it has notes of tomato, cherries and aged balsamic.

The Proper- Lemon Pie with Toasted Almonds.
2020 Malvasia Bianca. Skin fermented white, also called an Orange style wine. This fruit is from the beautiful Rhumbline Vineyard in Willcox. Fruit was picked, destemmed and fermented on skins for 9 days, pressed off and aged in a 187 concrete egg for 10 months. This is a zippy wine with high acidity and notes of fresh grapefruit, lemon verbena, gardenia and honeysuckle.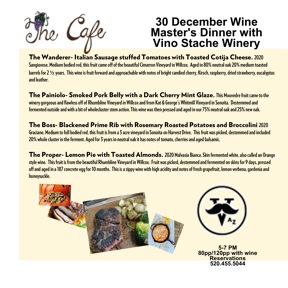 Jim's Amazing Front Porch Show

Every Friday from 5-7. We are on the patio if the weather is nice and inside if the weather is uncooperative.
Reservations recommended.


Catering
For something a little different or comfortably traditional, call or send us a
catering request
and we will coordinate something just for your celebrations!